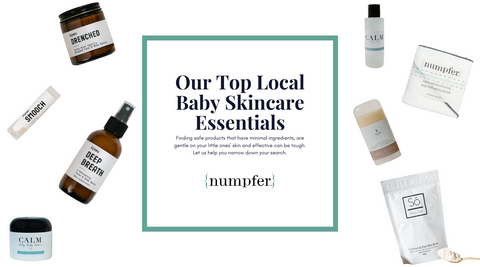 When it comes to your little one, taking care of their sensitive skin can be daunting. It can be hard to be flooded with recommendations, product ads and ingredients list a mile long. Having had two babies myself, I was lucky to find some local staple products that have been lifesavers with my own babies that I continue to use now even though they aren't technically babies anymore. 
One of the things I love the most is being able to support my fellow local business owners, and show them some love for the amazing products they make that our whole family loves.
In no particular order… here are some of my favourites!
This warm, vitamin-rich oil is amazing for hydrating and softening the skin. I love that it is created with nature in mind and is antioxidant-rich. Best of all, it works on any part of you or your baby's body, helping specifically to help target dry skin. 
A miracle cream. Its minimal ingredient list and the fact it's fragrance-free make it my go-to for my kid's sensitive skin when it's dry or irritated. I love to use it myself because of its rich, nourishing texture and the fact that it's packed with antioxidants. Perfect for anyone at any age, even from birth! 
The ultimate diaper rash/irritaion rescue! I have watched my kids' diaper irritation disappear before my eyes in the bath in one use. Só Luxury's Coco Oat Milk Bath is fantastic for treating dry skin, eczema or irritated skin, we always have it in stock at our house. Not only is it a beautiful natural health product, but it also smells amazing. It is a simple but extremely effective way to help settle your baby's skin when it's irritated in any way. If you need more convincing, just head to the reviews for this product - trust me, it's a lifesaver. 
Our super-soft organic bamboo cotton blend multi-use bib can join you anywhere you and baby go. From bottle feeding to drooling, this extremely absorbent terry cloth blend does it all. We've also been thoughtful to design our bibs with an innovative side tie, giving your baby the flexibility of lying down comfortably when tying the bib on without having to deal with pesky fasteners or finding the right neck size. With multiple colours to choose from, so you can stay on top of what is clean or dirty based on the colour. We love it, and we hope you do too!
Another staple in our house for everyone in the family when someone is under the weather. I love spraying this blend of organic essential oils, including eucalyptus, lime and peppermint, on my kids' chest when they're congested to help them feel better.
This whipped butter is my house's favourite indulgent moisturizer. From right out of the bath or after a day when someone has gotten too much sun, I always reach for the Drenched Face & Body Butter. Vanilla is my favourite scent, but they also have multiple different flavours, so you can find the perfect fit for you and your family. I think they sum it up best when they say: 
"Body butter can be thick and non-absorbing. Drenched is just the opposite. Whipped to a consistency that reminds us of birthday cake frosting, with scents to go with it. When applied to damp skin, drenched's organic shea butter, organic coconut oil, mango butter, and almond oil base melts on contact, absorbs beautifully, and leaves skin silky smooth and never greasy."  
-K'pure website
 My girls & I carry one of these lip balms in every pocket, purse, nook and cranny possible - we are all obsessed! It is beyond moisturizing and is still light when you apply it. The scents are subtle but inviting, and the peppermint balm has multiple different uses, such as applying to temples and/or neck for headache relief. We're all big fans of this luscious lip balm at my house, and are never without it!
This minimal ingredient vitamin-rich balm is amazing for helping treat irritated skin, all number of boo-boos, and leaves skin feeling soft and moisturized. One of the best features of this baby butter is the convenient roll-on stick. Made with a custom blend of healing organic calendula and calming organic chamomile infused in nourishing jojoba and wheat germ oil, it rolls on luxuriously and keeps skin nourished all day long. I love how easy it is to apply, its heavenly scent and it's so easy my kids can even apply it themselves!