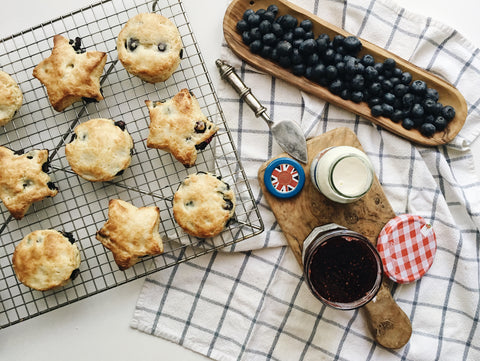 I am always trying to find new recipes to add to the rotation and make school lunches more exciting and enticing. I had a whole bunch of fresh blueberries so I made these delicious scones and used cookie cutters to create a star and circle shape so they would be a little more fun when Charlotte opened her lunch box. The star shape was definitely the favourite, they gobbled them up. Bonus they only have a little sugar in each so the kids won't be jumping off the walls. 
this recipe is adapted from Ricardocuisine.com
Ingredients 
2 3/4 cups (412 g) organic unbleached all-purpose flour
1/4 cup (105 g) organic sugar
1 tbsp baking powder
1 tsp baking soda
1/2 tsp salt
3/4 cup (170 g) cold unsalted butter, cubed
1 1/8 cups (310 ml) buttermilk *see note
2 cups (300 ml) fresh blueberries **see note
Preparation 
With the rack in the highest position, preheat the oven to 425°F (210°C). Line two baking sheets with silicone mats or parchment paper.

In a food processor, combine the flour, sugar, baking powder, baking soda and salt. Add the butter and pulse until the butter forms pea-sized pieces. Add 1 cup (250 ml) of the buttermilk, and pulse until just blended.

On a lightly floured work surface, using a rolling pin, roll out the dough into a 16-inch (45 cm) square. Arrange the blueberries over the dough. Roll the dough into a long cylinder and press it flat to a thickness of 1 1/4 inches. Use a star cookie cutter to cut out shapes and place on the prepared sheets, or freeze at this point. Repeat until all dough is used up.

Brush the scones with the remaining 1/8 cup buttermilk. 

Bake one sheet at a time for 15 minutes or until the scones are golden brown. (Bake frozen scones for about 23 minutes.) Let cool.
Note:
*I never have buttermilk on hand so when any recipe ever calls for buttermilk I always just use organic whole milk and add a little apple cider vinegar to it. This works just as well as buttermilk. 
**Use fresh blueberries, frozen will result in purple dough (unless thats what you are going for. Come to think of it, would be fun for the kids) 
Let me know in the comments if you make these or if you have any suggestions for great recipes I should try for my kiddos.