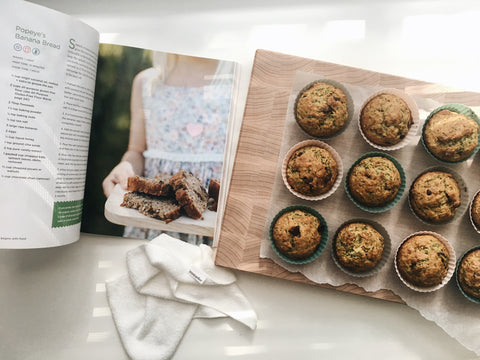 I have made these muffins twice now and I am defrosting frozen bananas while I write this for the next batch. These hands down are my favourite banana muffin to date. They have quality ingredients, no refined sugar, healthy oils and best of all spinach hidden inside these incredibly delicious muffins.
The original recipe is 'Popeye's Banana Bread' from 'It All Begins With Food' by the founder of Love Child Organics, Leah Garrad-Cole. I changed it a bit because I didn't have all the ingredients and I wanted to make them into little muffins for breakfast, lunches and snacks. 
Heres the recipe... Let me know if you make them!
1/4 cup olive oil
2 cups all purpose organic flour
2 tbsp ground flax seeds
1 1/2 tsp baking powder
1/2 tsp baking soda
1/2 tsp sea salt
3 large ripe organic bananas
2 organic free range eggs
1/2 good quality maple syrup
1 tsp chia seeds
2 tsp pure vanilla extract 
1 packed cup chopped baby spinach leaves
1/2 cup chocolate chips
Preheat the oven to 350°F. Line muffins tin with reusable silicone muffin cups or grease with olive oil and dust it with flour. 
Place the flour, flax seeds, baking powder, baking soda, and salt in a large bowl and mix to combine.
In a food processor fitted with the steel blade, combine the bananas, eggs, honey, olive oil, chia, and vanilla until smooth.
Add the spinach and pulse gently until it is in very small pieces but not completely blended in. You don't want to turn the mixture green by blending it too much.
Pour the wet ingredients into the dry, mix until just combined, and then stir in the chocolate chips.
Scoop evenly into each muffin cup (I like using an ice cream scoop) and bake until golden. A toothpick inserted in the center of the muffin should come out clean, and the top should be dark golden.
Allow to cool slightly before removing from the pan and cooling on a wire rack. 
To store, wrap in parchment paper or sealed glass container. This will keep well for a few days on the counter, or you can wrap and freeze them in an airtight container for up to 3 months.
Hope you enjoy them as much as my family does!